Matthew C. Donahue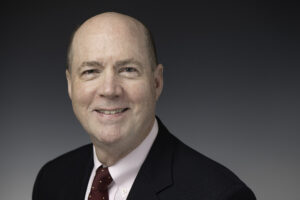 Donahue Law Offices is led by Matthew C. Donahue, a fourth-generation attorney with more than 34 years of diverse legal & litigation experience.
Matt has been practicing law in New Hampshire, Massachusetts and Vermont for more than three decades. He firmly embraces and actively practices the philosophy that the legal profession is about helping people and businesses. Matt has broad experience in Trust Administration, Estate Planning, Special Needs Trusts and Charitable Foundations and currently focuses his practice on estate planning and administration, real estate, and corporate and business counsel. He serves as Trustee to numerous Special Needs and other Trusts, some of which run operating companies.
Over the decades, he has had extensive trial experience handling criminal, insurance defense, business, probate, land use, environmental and IRS tax collection issues in MA and NH courts. Matt has further developed a practice advising real estate investors and SEC exempt syndications, 1031 Exchange and Self-Directed IRAs.
His father, Joseph P. Donahue Jr., his uncle, Richard K. Donahue, and his grandfather, all lawyers before him, had a profound influence on why he himself became a lawyer. They believed that the practice of law was a noble profession, but also a business to be operated with high standards of excellence. They viewed the work of a lawyer as community-based and that belief is something Matt has carried on to this day.
Matt is now a firm believer in the saying: "An ounce of prevention is worth a pound of cure." His legal practice is based upon that maxim. That is also why he developed the My Outside General Counsel model, which is a fixed-fee, subscription-based approach to offering legal services. This unique model gives small to medium-sized businesses all the benefits of having their own in-house lawyer, but at a fraction of the cost.
Matt's goal is to guide clients through their legal issues, helping them to take advantage of opportunities, and avoid the courtroom.
Leveraging years of experience running his own business as well as representing and advising a diverse business client base on successfully managing theirs, Matt is committed to cultivating strong, long-lasting relationships with his clients that enable him to understand their businesses at a deeper level. He has founded non-profit organizations related to land use and conservation, and a real estate investing firm which he oversees and manages.
Matt hopes to enhance the extensive experience of Eric Janson's 37 years of Estate Planning and Trust and Probate Administration in providing accessible, quality legal services to the people of the Upper Valley.
Matt earned his bachelor's degree from Colby College, (B.A. in Government '82) and Law Degrees from Suffolk University Law School (J.D. 1985) and Vermont Law School (MSEL, 1996).
Formerly of Lowell, MA, Matt has been visiting the Upper Valley for over 20 years, enjoying skiing, hiking, biking and other outdoors activities. He was a Quechee Ski Patroller for over 10 years. He currently lives with his wife, Lisa, in White River Junction, VT and together they have four adult sons.
Contact Matt: matt@donahuelawoffices.com
Connect with Matt: